Swimm's IDE plugins allow you to see links to Swimm documentation right from the code that they document. When you click on a link, your IDE will open a new tab with the documentation perfectly rendered from Markdown. You can then kick off a split window, and read the documentation side-by-side with the code you're working on.
Would you like to try Swimm directly from your IDE right now, in about a minute?
You can experience Swimm documentation inline with code right now with VSCode or any JetBrains IDE - it will only take a minute with three easy steps. No signup of any kind or sharing of information is required.
1. Install Our Plugin
2. Clone This Site
3. Experience Swimm!
Install and enable Swimm's Visual Studio Code Or JetBrains plugin as appropriate. Take a look at the screen shots below to get an idea of what it adds and how it surfaces Swimm documentation.
Clone this site from its public Github repo. This is a Docusaurus site powered by Typescript, React and MDX, that is actively and continuously documented with Swimm!
Open the repo in your IDE and click on the Swimm plugin icon. You'll see a list of files that have documentation associated with them. Click on any file and look for the Swimm links, which will render the corresponding document in a new IDE tab.
Here's how Swimm documents are advertised within the IDE - take this state machine transition table as an example:

Links appear per snippet that you include in your documentation, so the more snippets, the better the in-IDE coverage is going to be. Continuing the example, let's say someone was looking for clues about that state machine in the header:

What's even more special is the ability to read the in-depth doc, right there in the IDE, by just clicking on one of those Swimm doc links: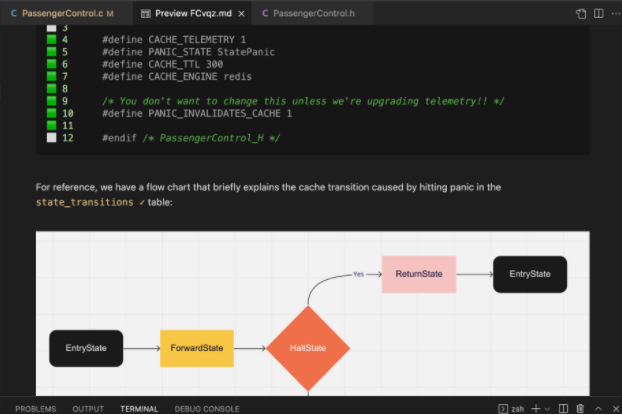 Visual Studio Code
Our Visual Studio Code plugin is available from within the Visual Studio Marketplace.
Visit The VSCode Marketplace
JetBrains (all IDE products)
Our JetBrains plugin works across all IDE products, including IntelliJ IDEA, PHPStorm, PyCharm, etc. You can download it from your IDE, or check out the plugin page.